Our facilities were designed, built, and now operated, with the environment in mind. The main lodge building was built primarily out of recycled wood coming from the old elephant corral from the Angkor park. The lodge's furniture is entirely reclaimed from unwanted inventory from the hotel industry in order to further reduce our carbon footprint, even the dinig tables are made of repurposed doors! The elephants benefit from a natural bath designed to be full year-round with natural groundwater. On hot days, it is by far their favorite place. In the dry season, the muddy shores are rich with clay and are perfect for elephant skincare.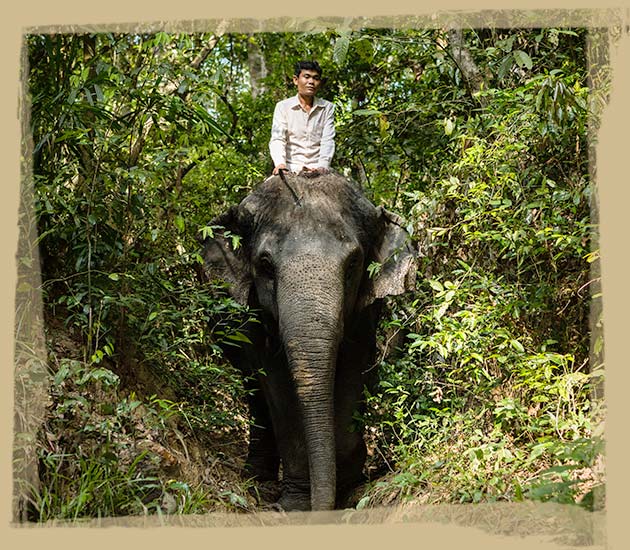 Every tour departs from our office in downtown Siem Reap where our shuttle will take you on a one hour drive to the Kulen Elephant Forest. Once at the reserve, you will spend time learning about elephants as you follow them through their natural habitat, observing their relationships and behaviors.
Click on the packages to learn more about our unique experiences or take a look below for more information about our facility.
Our Office and Departure Point : Here or  https://bit.ly/2PU0clw
Dietary: All meals are served with vegetarian options. Unfortunately, vegan options are currently unavailable. Please notify us of your dietary restrictions.
Recommended Items: Sports shoes, sunglasses, a hat, sunscreen, mosquito spray, an outfit that can get dirty.
Cancellation Policies: 75% refund over 48hrs, 50% refund under 48hrs, 0% refund under 24hrs
Scheduling: Itineraries are subject to change or cancellation following weather conditions and the needs of our elephants.
Lateness: All tours leave at the scheduled time, visitors are advised to arrive 15 minutes prior to departure. Missed tours are non-refundable and rescheduling is subject to availability.
Liability: All visitors must sign a standard liability release waiver prepared and provided by Kulen Elephant Forest,
Sleep under the stars and alongside elephants with our overnight camping experience. After an afternoon with elephants, spend a night camping complete with campfire cooking and some restful sleep at our fully-equipped campsite. In the morning, have breakfast in the wild before your day of adventure.

Copyright © 2019, Kulen Elephant Forest,
All Rights Reserved.
Rise and shine!
Come and experience the daily life of our elephants. Spend your time observing them as they enjoy their natural surroundings. Walk with them into the forest, and witness how they choose to spend their time.
At noon, retire to base camp and enjoy a traditional meal before heading back to Siem Reap.
Depart from Siem Reap at around 8:00 and return at around 14:00
| | |
| --- | --- |
|  Duration |  8:00 and return at around 14:00 |
|  This package includes | Transport, Morning Tea/Coffe and lunch |
|  Maximum group size | 12 visitors |
|  Price | USD 90 per person |
Just indulging elephants.
From preparing healthy snacks to a walk through the forest and a refreshing swim, this experience is a good way to learn more about their version of a good time.
As the sun begins to set, have a picnic in the wild and say goodbye to the elephants before heading back to town.
Depart from Siem Reap at around 12:00 and return at around 18:15
| | |
| --- | --- |
|  Duration |  12:00 and return at around 18:15 |
|  This package includes | Transport, Tea/Coffe and a picnic |
|  Maximum group size | 12 visitors |
|  Price | USD 90 per person |